The kitchen backsplash is a vital design element in any kitchen. It not only protects the wall behind the sink and stove from splashes and spills, but it also adds style and personality to the space. There are many different materials, colors, and patterns to choose from when designing a kitchen backsplash, so it's important to select one that will complement the overall design of the room.

Here are some tips for designing a beautiful and functional kitchen backsplash.
Decide on the overall look you want for your kitchen backsplash
Do you want it to be sleek and modern, or warm and rustic? 2
Choose the materials you want to use for your backsplash
Stone, tile, glass, and metal are all popular options
Select a color scheme for your backsplash
You can coordinate with the existing colors in your kitchen, or go for something completely different
Determine the size and shape of the area you need to cover with your backsplash
This will help you figure out how many tiles or other materials you will need to purchase
Install a row of tile or other material along the bottom edge of your backsplash area, using thin-set mortar or another adhesive as appropriate
Continue adding rows of tile until the entire area is covered
Kitchen Backsplash Ideas on a Budget
If you're looking to add a touch of style to your kitchen without breaking the bank, then backsplash tile is a great option. There are many different styles and designs to choose from, so you can find something that fits your taste and budget. Plus, backsplash tile is easy to install, so you can do it yourself and save even more money.

One of the most popular trends in kitchen design is using mosaic tile as a backsplash. Mosaic tile comes in a variety of colors and patterns, so it's easy to create a unique look that fits your personal style. Plus, mosaic tile is very durable and easy to clean, making it a great option for busy kitchens.

If you're looking for something a little more traditional, then subway tile is another great option. Subway tile comes in neutral colors like white or cream, which will match any kitchen décor. Plus, it's easy to clean and maintain, making it a perfect choice for busy families.

If you want to add some personality to your kitchen without spending a lot of money, then patterned tiles are a great option. Patterned tiles come in all sorts of designs, from geometric shapes to floral patterns. You can use them to create an accent wall or backsplash, or you can use them throughout the entire room for a cohesive look.

Whichever way you choose to use them, patterned tiles are an affordable way to add personality to your kitchen décor.
Kitchen Backsplash Trends 2022
The kitchen is the heart of the home, and the backsplash is like the cherry on top. It's the perfect way to add personality and style to your space, and with so many trends to choose from, there's sure to be something that speaks to you. Here are some of our favorite kitchen backsplash trends for 2022:

1. Bold and Bright Colors If you're looking for a way to add a little pizzazz to your kitchen, consider going bold with your backsplash. Bright colors are all the rage right now, so why not use them to make a statement?

We love the idea of using a vibrant hue as an accent wall or applying colored tiles in a fun pattern. No matter how you do it, adding some color will definitely give your kitchen an updated look. 2. Mixed Materials

Another big trend we're seeing is the mix of different materials in one backsplash. This can include anything from glass and metal tiles to stone and wood accents. The key is to create contrast by mixing textures and colors.

This trend is especially great for those who want their kitchen to have a more eclectic feel. 3 . Metallic Tiles

If you're looking for something a little more subdued than brightly colored tiles, consider using metallic ones instead. They'll add just enough shimmer and shine to catch the eye without being over-the-top. Gold, silver, and copper are all popular choices right now.

You could even use mixed metals for an even more unique look!
Backsplash for Kitchen
A backsplash is a great way to add personality to your kitchen. It can be used to protect your walls from splatters and spills, and it also adds a touch of style. There are many different materials that can be used for a backsplash, including tile, stainless steel, glass, and even stone.

When choosing a material for your backsplash, it's important to consider both function and style. Tile is a popular choice because it's easy to clean and comes in a variety of colors and patterns. Stainless steel is another good option because it's durable and resists stains.

Glass is a beautiful option that can be customized with different colors and designs, but it requires more maintenance than other materials. Stone is an elegant choice that adds natural beauty to your kitchen, but it can be expensive. No matter what material you choose for your backsplash, make sure it compliments the overall design of your kitchen.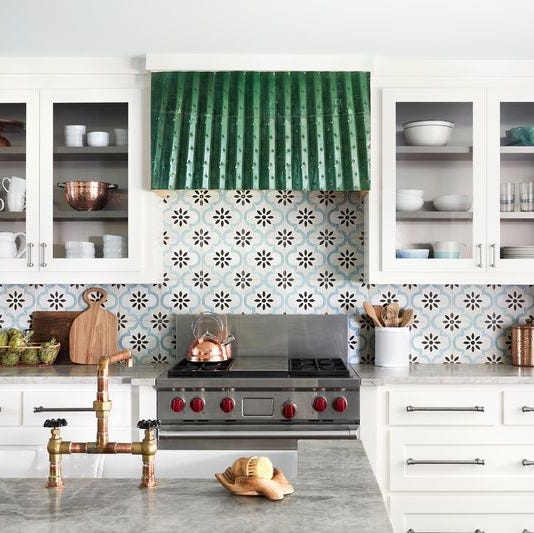 Credit: www.goodhousekeeping.com
How Do I Plan a Backsplash Layout?
When planning a backsplash layout, there are a few things to keep in mind. First, you'll need to decide on the size and shape of your backsplash. Then, you'll need to choose a material that will complement your countertops and cabinets.

Finally, you'll need to install your backsplash according to your chosen design. To begin, measure the area where you want your backsplash to go. Then, use a ruler or a level to draw out the dimensions of your space on graph paper.

Once you have the basic outline of your backsplash drawn out, it's time to start thinking about design. There are many different ways to lay out a backsplash. A popular option is to create a mosaic design using small tiles in multiple colors and patterns.

Another option is to use larger tiles in a single color or pattern. You can also combine both large and small tiles in interesting ways. There are endless possibilities when it comes to designing your perfect backsplash!

Once you've settled on a design, it's time to choose your materials. Glass tile is one popular option for kitchen and bathroom backsplashes because it's easy to clean and comes in many different colors and styles. Ceramic tile is another popular choice because it's also easy to clean and comes in many different colors and styles.

However, ceramic tile can be more difficult to install than glass tile. Stone tile is another option that adds natural beautyto any space but can be more difficultto install than ceramic or glass tile..

Metal panels are also an option for those who want an industrial look for their kitchen or bathroom but installation can be tricky.. Whichever material you choose, make sure that it compliments the countertopsand cabinetsin your space so that everything flows together nicely.. After you've selectedyourmaterials ,it's timetoinstallthebacksplashiproperly .This meansmeasuringtwicetomakesureeverythingfitsperfectlyandcuttingthetileorpanelsto size as needed beforeadheringthemto the wall with mortar orothinsetadhesive . Pay close attentiontothegroutlinesso that they'reevenandstraight – this will giveyourbacksplasha neaterfinish overall .. Andthat'sit !
How Do I Choose a Backsplash Design?
When you're planning a kitchen remodel, one of the most important choices you'll make is your backsplash. The backsplash is an essential design element that can help define the style and feel of your kitchen. With so many options available, it can be tough to decide which backsplash is right for you.

Here are a few things to consider when choosing a backsplash design: 1. Consider Your Kitchen's Style The first step in choosing a backsplash is to think about the overall style of your kitchen.

Do you want a traditional look? Or are you going for something more modern? Your backsplash should complement the rest of your kitchen's design.

For example, if your kitchen has classic cabinetry, then a tile backsplash with simple geometric patterns would be a good choice. On the other hand, if your kitchen has sleek, contemporary lines, then you might want to go for glass or stainless steel tiles. 2. Choose a Material That's Easy to Clean

Another important consideration when choosing a backsplash is how easy it will be to keep clean. If you do a lot of cooking, then you'll want to choose a material that won't stain easily and is easy to wipe down. Glass, ceramic tile, and stainless steel are all good options that meet this criteria.

However, if you don't do much cooking and prefer low-maintenance materials, then stone or marble may be better choices for you. 3 .Think About Maintenance Requirements

In addition to ease of cleaning, you should also think about any special maintenance requirements when choosing yourbacksplash material . For instance , natural stone like marble requires periodic sealing in order to stay looking its best . Similarly , glass tiles need to be cleaned regularly with mild soap and water solution in order prevent streaks and smears . Keep these things in mind as chooseyourbacksplasha ialso dn 't forgetto factor inthe costof any special cleaners or sealers requiredfor maintenanceinto your budget .
Should Backsplash Be Lighter Or Darker Than Cabinets?
This is a great question and one that does not have a definitive answer. It really depends on your personal preference and the overall look you are trying to achieve in your kitchen. If you have lighter cabinets, then a darker backsplash can create a nice contrast and make your kitchen pop.

Conversely, if you have dark cabinets, then a lighter backsplash can brighten up the space and give it an airy feel. Ultimately, it comes down to what you think looks best in your kitchen.
What is the Trend for Backsplash in 2021?
When it comes to backsplash trends, 2021 is all about personalization. Homeowners are looking for ways to add a unique touch to their kitchen that reflects their personal style. This can be achieved through choosing a backsplash material that speaks to them, whether it's traditional tile or something more unexpected like glass or metal.

Another trend we're seeing for 2021 is the use of bolder colors and patterns. Gone are the days of simple white subway tile—now homeowners are opting for statement-making hues and designs that really pack a punch. If you're feeling daring, why not try a black or navy blue backsplash?

Or go for a graphic pattern like geometric shapes or herringbone. If you're not ready to commit to a bold look, there are plenty of other ways to update your backsplash without going too crazy. One popular option is using two different materials in one space—say, combining marble with glass mosaic tiles.

You can also experiment with different textures, like pairing matte tiles with glossy ones. And don't forget about shape! Mixing up square tiles with hexagons or circles is another great way to add interest to your kitchen backsplash.
DO'S & DONT'S! Kitchen Backsplash Tile Ideas | Design Lesson 11
Conclusion
Are you planning to design a kitchen backsplash but not sure where to start? Here are some tips on how to design a kitchen backsplash that will help you create the perfect space. First, decide what style you want for your kitchen backsplash.

Do you want something traditional or more modern? Once you have an idea of the overall style, you can start narrow down your choices of materials and colors. If you want a classic look, consider using tile for your backsplash.

Tile comes in a variety of colors and styles, so you can find the perfect option to complement your kitchen's existing décor. If you're looking for something more unique, consider using glass or metal tiles. Once you've selected the material for your backsplash, it's time to choose a color scheme.

Again, think about what look you want to achieve in your kitchen. If you want a bolder look, go with brighter colors; if you prefer a subtler approach, stick with neutral tones. When it comes to pattern, there are endless possibilities.

You could opt for a simple subway tile pattern or something more intricate like Moroccan-inspired mosaic tile. Or, get creative and design your own custom pattern! Finally, don't forget about practicality when designing your kitchen backsplash.

Make sure the material and colors you select are easy to clean and stain-resistant. And if possible, choose a backsplash that extends all the way up to the ceiling so crumbs and spills are less likely to end up on your walls!